René Alvarez
Bianca Cabrera
Cate Caraker
Jess Curtis
Daniel Bear Davis
Krista DeNio
Joe Edelman
Katarina Eriksson
Kristen Greco
Sebastian Grub
Rosemary Hannon
Ralf Jaroschinski
Aaron Jessup
Vitali Kononov
Diana Lara
Mihyun Lee
Utam Moses
Stuart Phillips
Carmen Serber
Rajendra Serber
Cator Shachoy
Carol Swann
Ronja Ver
Miriam Wolodarski
---
René Alvarez , has logged over 1000 hours of classes since discovering contact improvisation in year 2000. René founded InterKinected.org in 2012, with a mission to investigate and promote Contact Improvisation through organization and sponsorship of classes, jams, festivals, intensives, laboratories, films and showings. Since then he has curated the thursday Pre-Jam Class in Berkeley, and been a teacher/organizer for wcciJam.  René was a presenter at the 5th annual Sierra Contact Festival, and has participated in Earthdance's Contact Improv Ground Research Residency. In 2013, René co-hosted the Moab Jam and  Earthdance's 4th of July Jam,. 2014 will be his 16th consecutive year participating in the Burning Man Project where he will be teaching classes at Camp Contact. René's teaching focuses on providing challenging technical training for any level of experience, and often incorporates continuous dynamic weight and balance sharing as an educational tool for contact improvisation.
---
Bianca Cabrera has been creating new dance work in California since 2010 and teaches weekly in West Oakland at Project Bandaloop (Technical Practice for the Adventurous Dancer) and in San Francisco at ODC (Pop Up Choreo). She is the Artistic Director of Blind Tiger Society, a contemporary dance band based out of Oakland, CA. Blind Tiger Society premiered their first evening of work, Sunk in Sleep, at CounterPULSE in August of 2012. Bianca began her training in ballet and Graham Technique at the Chicago Academy for the Arts. Training at the Alvin Ailey School and the Martha Graham Center prefaced a BFA in dance at Cornish College of the Arts.
---
Cate Caraker has been practicing Contact Improvisation since the early 80's, when she was introduced to the form by Nancy Stark Smith while a dance student in Amsterdam. A dance artist and teacher, she has developed a body of work that investigates movement through Body-Mind Centering®, dance improvisation and other creative and somatic disciplines. A life-long learner, she loves to share her passion for movement research and deep play through her teaching. She was on the faculty of the School for New Dance Development in Amsterdam for over 10 years and has performed and taught her work across Europe and the Americas. She has collaborated with many inspiring artists including Katarina Eriksson, Ray Chung, Rosemary Hannon, Vitali Kononov, Henry Kaiser, Daniel Lepkoff and others. When at home in San Francisco, she helps to run the CounterPULSE jams and the WCCIJam festival.
---
J
ess Curtis's company Gravity is currently in residence at CounterPulse  as they prepare for their upcoming premiere 'The Dance That Documents Itself' on Dec. 4.  Jess will be teaching the Tuesday night pre-jam classes at CounterPulse throughout the month of November.  Jess has created a body of work ranging from the underground extremes of Mission District Warehouses with Contraband and CORE (1985-1998) to the formal refinement and exuberance of European State Theaters and Circus Tents with Compagnie Cahin-Caha (1992-2002) and Jess Curtis/Gravity (2000-present).  Along with numerous fellowships and funding awards, his work has been recognized with the prestigious 2011 Alpert Award in the Arts for choreography, a total of six Isadora Duncan Dance awards, the 2011 Homer Avila Award for Physically Diverse Dance, and a Fringe First Award at the Edinburgh Fringe Festival. Curtis teaches Dance, Contact Improvisation, and Interdisciplinary Performance throughout the US and Europe and is currently a Ph.D  candidate in Performance Studies  at the University of California at Davis focusing on embodiment and performativity in movement-based performance. www.jesscurtisgravity.org
---
Krista DeNio is an interdisciplinary choreographer, director, performer, writer, & educator, committed to developing new forms of performance work, and evolving interdisciplinary thinking and creation within the fields of dance and theater. She has been a practitioner of Contact Improvisation for eighteen
years, and approaches the form from a variety of perspectives, from its technical foundation and support of partnering work in choreography and performance, to the radical personal and political potentialities that exist within the practice and participating communities. www.kristadenio.com
---
Daniel Bear Davis has been teaching and dancing CI and improvisational composition for 13 years. For 5 years his focus has been co-directing the dance theatre company, Shah and Blah Productions and performing with acrobatic stilt theatre company, The Carpetbag Brigade. He is currently an Axis Syllabus teacher candidate and his study with Frey Faust has been instrumental in developing the concepts that inform his CI practice in addition to his background as a bodyworker in myo-fascial release. His performance work has been presented in Estonia at The Imagining Bodies Symposium, at the SF International Arts Festival, and the SEEDS Festival and (with Kristen Greco) E|MERGE residency at Earthdance. Daniel has also performed with Felix Ruckert in Berlin, and on a suspended welded sphere with Copenhagen's Live Art Installations (formerly Half Machine). He has performed full evening improvisations with Nita Little and Erika Tsimbrovsky in SF. His approach to CI is one of constant research into the expansion of range and choice.
---
Katarina Eriksson has been involved with improvisational dance since 1989, collaborating with artists, such as Ray Chung, Cathie Caraker, and Swedish improvisation ensemble Floke. She teaches Contact Improvisation and other improvisational forms in Europe and the US, and curates the performance series Moments Notice in Berkeley since 2000. Recent performance endeavors are; touring in Sweden and Germany with improvisational folkdance troupe Hoppalappa, site-specific dancing with Siljeholm/Christophersen in Beirut, and directing multi-disciplinary performances in Massachusetts and New York.
---
Joe Edelman. High in the Himalaya, Mr. Joe Edelman first taught CI in the mountains of India. He's been an adjunct professor in dance and once slapped Steve Paxton, inventor of contact improvisation, on the ass. He loves teaching undergrads, but his best students have been goats.
---

Sonsherée Giles is the Associate Artistic Director and dancer with AXIS Dance Company. Originally from New Orleans, LA she moved to the Bay Area to attend Mills College and receive her MFA in performance/choreography. Since 2005 AXIS has become a home for her where she can explore her passion for movement, push boundaries and work with extraordinary choreographers and dancers. Sonsherée has received an Isadora Duncan Award for ensemble performance of To Color Me Different choreographed by Alex Ketley. In 2010 she was honored to receive a Homer Avila Award for Excellence in the field of Physically Integrated Dance. She has toured and performed for audiences throughout the United States, Germany, Croatia, Slovenia, Russia and Austria and has taught contemporary dance in public school systems, universities, institutions and dance festivals throughout the country. Sonsherée makes dances based on observations of animals, landscapes, art history, and daily life experiences. She formed this sweet nothing as a container for her dance art and has been generously supported by Zellerbach Family Foundation, CLOROX Company Foundation, CA$H grant, and East Bay Fund for Individual Artists.
---

Kristen Greco has directed, performed, and taught internationally in Mexico, Canada, South America, and Europe both independently and with The Carpetbag Brigade since 2000. Kristen most recently performed with Syzygy Butoh (CO), Human Nature Dance Theatre (AZ), and Live Art Installations (Denmark). Kristen holds a BA in Studio Arts/Performance from University of Colorado and a somatic education certificate from Moving on Center's School of Participatory Arts. Kristen serves as guest faculty at USF teaching CI and partnering techniques. Kristen's current research includes how access to different perceptive lenses can affect our habits, somatic processes, and performance experiences.
---

Sebastian Grubb is a movement artist and fitness trainer based in San Francisco. He has toured nationally and internationally with AXIS Dance Company since 2009, and with Scott Wells & Dancers since 2008. His choreographic work has been shown throughout California and also in Washington State, Wyoming, Iowa, Minnesota, Washington DC, Florida, New Hampshire, Russia, and on FOX TV's "So You Think You Can Dance".
Sebastian teaches several dance forms to diverse populations of dancers, including those with physical disabilities: contemporary dance, contact improvisation, biomechanics, and creative movement. He has taught throughout the San Francisco Bay Area, in Santa Cruz, Los Angeles, at the West Coast Contact Improvisation Jam, at Burning Man, at the Nomadic College at Earthdance in MA, at Mills College, and at Whitman College. He is a certified teacher of the Axis Syllabus and champions health and longevity in the dance education process. www.sebastiangrubb.com
---
Rosemary Hannon Rosemary Hannon is a performer, choreographer and dance teacher. Since 1996, she has taught a variety of dance forms, improvisation and composition throughout the bay area at dance studios and schools and for non-profit arts organizations. Rosemary has been teaching Contact Improvisation since her first collaboration with Vitali Kononov in 2004, assistant teaching at the American Dance Festival. She has also taught CI at the West Coast Contact Improvisation Festival and Jam, CounterPULSE, ODC School, 8th Street Studios, The Finnish Hall, and the Seattle Festival of Dance Improvisation. In 2004, she completed her MA in arts-integrated education from University of San Francisco.
---
Ralf Jaroschinski, born in Germany and raised in Brazil, was trained in classical, modern and contemporary dance techniques in Germany and New York City. He works as a freelance dancer, teacher and choreographer in the Americas, Europe and Asia since 25 years. He performed contact improvisation in scores designed by Brandin Steffensen (New York City) and Scott Wells (San Francisco) and has also produced and staged his own scores and entire dance concerts based on contact improvisation. He has been facilitating contact improvisation classes and workshops at various festivals, dance studios, schools and universities since over 10 years, and he has trained the members of the dance companies "Karen Peterson & Dancers" in Miami, the Peruvian "Compañía de ballet de Trujillo", "Terpsicore Proyectos", "Danza Viva", and "Ballet San Marcos" in Lima, the Brazilian Curitiba Guaíra Ballet, the Swedish "GöteborgsOperans Danskompani", and also the "Cullberg Baletten" in Stockholm in contact improvisation.
---
Aaron Jessup: A second-generation performing circus artist, Aaron first movement discipline was circus acrobatics, but his first movement love was contact improvisation, which he discovered in 1990 and began teaching 1997. Aaron has taught workshops and at festivals nationally and internationally, including at WCCIF (CA), Earthdance (MA), Contact Festival Freiburg (GER) and Contact In Rio (BRA). His classes are influenced by his eclectic background as a dancer, actor, acrobat, street performer, river guide, animal tracker and bodyworker. Aaron has performed with Pickle Family Circus, Make*A*Circus and the Izzy-Award winning Scott Wells & Dancers. A two-time recipient of the Jack Kent Cooke Foundation Scholarship, Aaron recently received his MFA in Dramatic Art/Acting at UC Davis and is currently teaching at the Berkeley Rep School of Theater. Information about Aaron's classes, along with his one-man show, Flying Dreams, can be found at http://www.aaronjessup.com.
---
Vitali Kononov is a movement artist, bodyworker and somatic movement educator, working with improvisation as a performance discipline, therapeutic tool and a contemplative practice. He was born in St-Petersburg, Russia, in 1966. He has been teaching contact improvisation since 1997 in Russia, Europe, USA and Mexico. His background includes contemporary dance, physical theater, contact and ensemble improvisation, Somatic Movement Therapy, Body-Mind Centering and yoga. He taught at Moving On Center – School for Participatory Arts and Somatic Research since 2002 and was a faculty member of American Dance Festival (2003-04). Vitali has a private bodywork and Somatic Movement Therapy practice in Berkeley, California.
---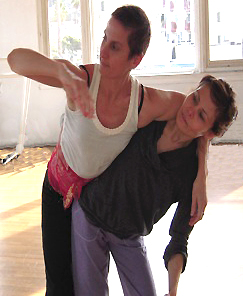 Diana Lara is a teacher, choreographer and dancer from Honduras. She graduated from the choreography program of the Center for Research and Choreography at the Mexican Institute of Fine Arts and from the Somatic Research and Participatory Arts program at Moving On Center in Oakland. In 2011, she graduated from the Embodied Developmental Movement and Yoga program offered by the School of Body Mind Centering. Diana teaches dance based on somatic principles for women recuperating from drug abuse and domestic violence at Purple Moon Dance Project, and yoga for elders at Bernal Heights Neighborhood Center. Since 1995, she has danced and choreographed for contemporary dance groups in Mexico and Honduras, participating in festivals in Mexico and Central America. She currently works as an independent artist developing projects based in the exploration of somatic elements and improvisation with performers in the San Francisco Bay Area and in Mexico.
---
Mihyun Lee has trained in dance professionally since 1992 in South Korea. She majored in Korean dance and minored in ballet and modern dance at Sunhwa Arts school. The more she studied dance, the more her interest grew in the creative aspect of art. This interest led her to study choreography in college. She achieved a B.A. in Performing Arts with a concentration in choreography at Kookmin University in 2005. In the following years she was involved in various dance companies as a professional dancer. However, she discovered there was something that she wanted to discover beyond art education and the dance field.
This realization guided her to move to the Bay Area to cultivate her life in 2009. After she moved, she began to explore contact improvisation and improvisational forms of dance on and off stage. Through the practice of improvisational dance forms, she experienced the therapeutic components of art. Also she was able to unravel the mystery of who she is and discovered her authentic self.
Currently, she is studying Counseling Psychology with a concentration in Somatic Psychology at California Institute of Integral Studies (CIIS) to deepen her understanding of body and mind.
---
Utam Moses is a dancer, activist, and visual/performance artist. She is fascinated by the intersection of the geographic and the psychological, the breaking down, the imaginative and the untold. Her creative process has been greatly influenced by contact improvisation, Qi Gong, Amerta movement improvisation, and currently paratheatrical explorations. She completed her Master's in Performance Studies at NYU, and is curious about the cultivation of deeper receptivity, disorientation, the subtle articulations of presence and agile shifts of state and story. She has recently performed with Body Research/Karl Frost, The Contact Project and The Doors Project in NYC, and has been a teaching assistant for contact improvisation classes at Juilliard and Indiana University, Bloomington. She is currently a member of Theater Together Now and co-founded Underneath Us, an experimental performance group centered around deeper social and political engagement through art and ritual.
---
Stuart Phillips is and has been devotionally performing and teaching improvisational contact dance for over 27 years throughout the US, Canada, New Zealand and Europe. He has been practicing, performing and teaching improvisational dance for over 33 years.  Find out more at http://stulip6.wix.com/stulips.
---
Carmen Serber is a German native and moved to the Bay Area in 2012. She traveled the world for several years: Dancing, learning, working and performing in Finland, Denmark and in the 2nd Himalayan Butoh Festival in India, 2011. She is a psychotherapist, dancer and a curious human being. She is one of the organizers of the West Coast Contact Improvisation Jam (WCCIJ). As a teacher Carmen is interested in facilitating a space where people can learn from each other. She is researching creative ways of developing one's individual dance without being stuck in concepts. Her background in Axis Syllabus gives her a technical understanding of CI that informs her feedback. As a performer she enjoyed being part of her husband Rajendra Serber's dance movie "Who Asked for It". This year she created two solos: "skiing bird" and "milk", has performed in Mary Armentrout's "Life is strange" at Baker Beach and collaborated with Bianca Cabrera's Blind Tiger Society in "Wreckage" and other projects. You can read more about her at planetcarmen.wordpress.com.
---
Rajendra Serber has had the privilege of collaborating with many wonderful artists including Sara Shelton Mann, Scott Wells and The Residents. He was born the same year as Contact Improvisation and grew up wrestling as a playful and loving practice. Starting with his father, who was a national wrestling champion in Argentina. Since that time he has studied a variety of physical and energetic forms, including Contact Improvisation, Release Technique, and Chi Gung. Some of his teachers have been Anna Halprin, Nita Little, Simone Forte, and Daniel Lepkoff. Rajendra has been teaching Contact Improvisation since 1999. For the past 3 year he as been one the organizers of the West Coast Contact Improvisation JAM (wcciJAM.org) As a director and performer his work has been presented at venues in San Francisco, Seattle, Los Angeles, New York, Berlin and Paris. For more information see RJNDR.NET.
---
Cator Shachoy Cator has practiced CI for over 10 years. Her dancing is
informed by craniosacral bodywork, yoga, tai chi & meditation, as well as other free form dance styles. www.catorshachoy.com
---
Carol Swann has been teaching voice, somatics (movement re-pattering & psychology), Alexander Technique, Authentic Movement, Contact and Performance Improvisation for 35 years in the United States, Latin America, Europe, Israel and Russia.  She is Co-Founder and Director of Moving On Center School of Participatory Arts and Somatic Education which links somatics and the performing arts for social change (1994-2013).  She is a registered movement therapist (RSMTsm) with a private practice in Somatic Psychology (blending Hakomi Method and Process Work) and the Alexander Technique.  She is a group process and conflict facilitator and weaves her extensive studies and practices in Social Somatics, Body-Mind Centering and Laban/Bartenieff into all of her work.  She has shared her dynamic, liberatory singing with groups of people internationally.  Her work is influenced by her parents Bob and Marj Swann, Steve Paxton, Bonnie Cohen, Arnold Mindell, Ron Kurtz, John Cage, Meredith Monk, Balkan Singing, nature, and the history and practice of liberatory politics.
---
Ronja Ver is a lover, explorer, performer and teacher of Contact Improvisation. Since 2000 she has taught both at festivals and in the academia, e.g. Freiburg Festival in Germany, American Dance Festival, Theater Academy in Helsinki, Prescott College, AZ, Hollins University, VA, Earthdance, MA, the West Coast CI Festival, and most recently she gave a week long intensive at the Finnish Contact festival Skiing On Skin. She has studied and worked with Contact Improvisation originators Steve Paxton and Nancy Stark Smith, and is much inspired by the continuous investigation of the form. Although technical, her classes offer an environment of learning that encourages improvisation, and supports the dancers in finding their own vocabulary within the dance. She loves to jam, which for her represents the heart of Contact Improvisation. When not dancing Contact, Ronja is kept busy with one year old Ainara, as well as dancing for Scott Wells and Dancers, Avy K Productions, and in other creative collaborations. Find out more about her at www.ronjaver.com
---
Miriam Wolodarski is a performance person based in San Francisco, California. She holds a Master of Fine Arts in Contemporary Performance from Naropa University, a Bachelor's in Political Science from Uppsala Universitet, and a banana in her left hand. She believes in dance and performance as a contemplative practice for both creator and observer. Find out more about her at www.senseobject.com
---